>
Best Day Trading Platform in Canada in 2020
Best Day Trading Platform in Canada in 2020
Which is the best trading platform in Canada? Is the best trading platform also best for beginners and day trading?
We have reviewed a great number of online trading platforms and found the answer in the list below. A few of the best platforms that didn't make the list were trading platforms from Tradefred, BDSwiss, Nord FX, HotForex, CMC Markets and Saxo Bank. The winner from these reviews: AvaTrade's trading platform is the best trading platform in Canada. AvaTrade is also great for day trading, whereas we would say that eToro has the best trading platform for beginners. Plus500 and eToro also made the top three trading platforms in the Canadian market.
The wonderful news for you as a trader is that all the five trading platforms in the list below are completely free. The 5 best trading platforms in Canada are:
AvaTrade Trading Platform, great for day trading.
easyMarkets Trading Platform, great for skilled traders with a nice freeze the price feature.
OctaFX Trading Platform, offers MetaTrader and cTrader
Tickmill Trading Platform
Forex.com Trading Platform
Of course, all the top five trading platforms are run by brokers that are correctly regulated and thus you can feel safe about your money. However, as always with trading, never invest more than you can afford to lose. Below you can read our more in-depth reviews of the best six trading platforms for Canada.
1. AvaTrade Trading Platform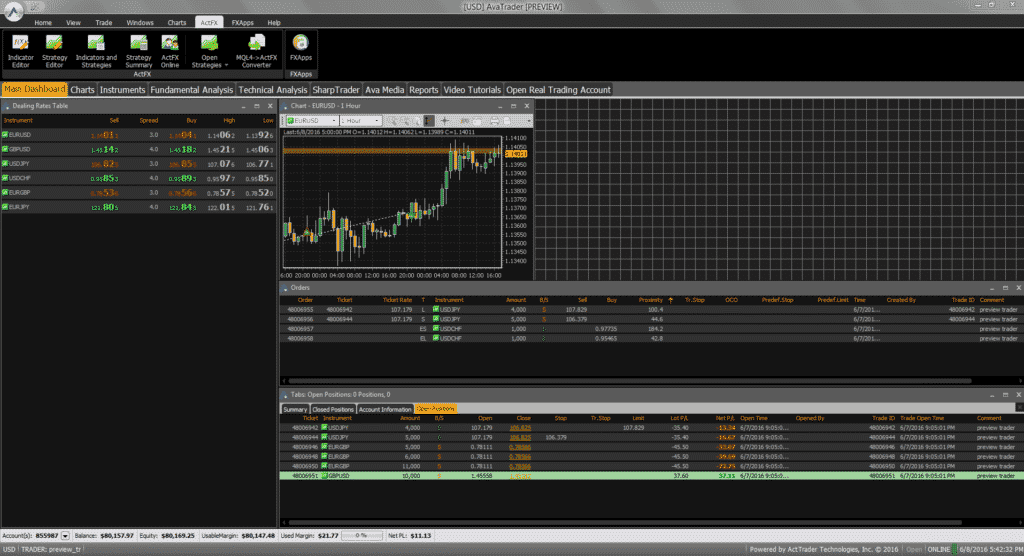 AvaTrade supports a wide variety of trading platforms. The brokers' proprietary client-side AvaTrader trading platform works on Windows XP, Vista and 7, and a Macintosh version is also available. Of course, all of them are very easy to download and install directly on your desktop or laptop computer.
The screenshot below shows the extensive functionality of AvaTrader, including technical and fundamental analysis, reports, tutorials and account management features.
Also, the AvaOptions Web platform and the MT4 WebTrader allow you to sign in to your AvaTrade account using any Internet browser without having to install it on your computer. Lastly, the AvaTradeGo app allows you to trade in an AvaTrade account using an iPad, iPhone or Android phone and/or tablet so you can manage and view your AvaTrade trading account while away from home. Read more about the AvaTradeGO app here.
In addition to its own AvaTrader trading platforms, AvaTrade nicely also supports the following trading platforms: Metatrader 4, Metatrader 5. DupliTrader, and ZuluTrade. For those already using MetaTrader, AvaTrade also offers their own version of this popular forex trading software to make your account installation easier.
---
2. easyMarkets Trading Platform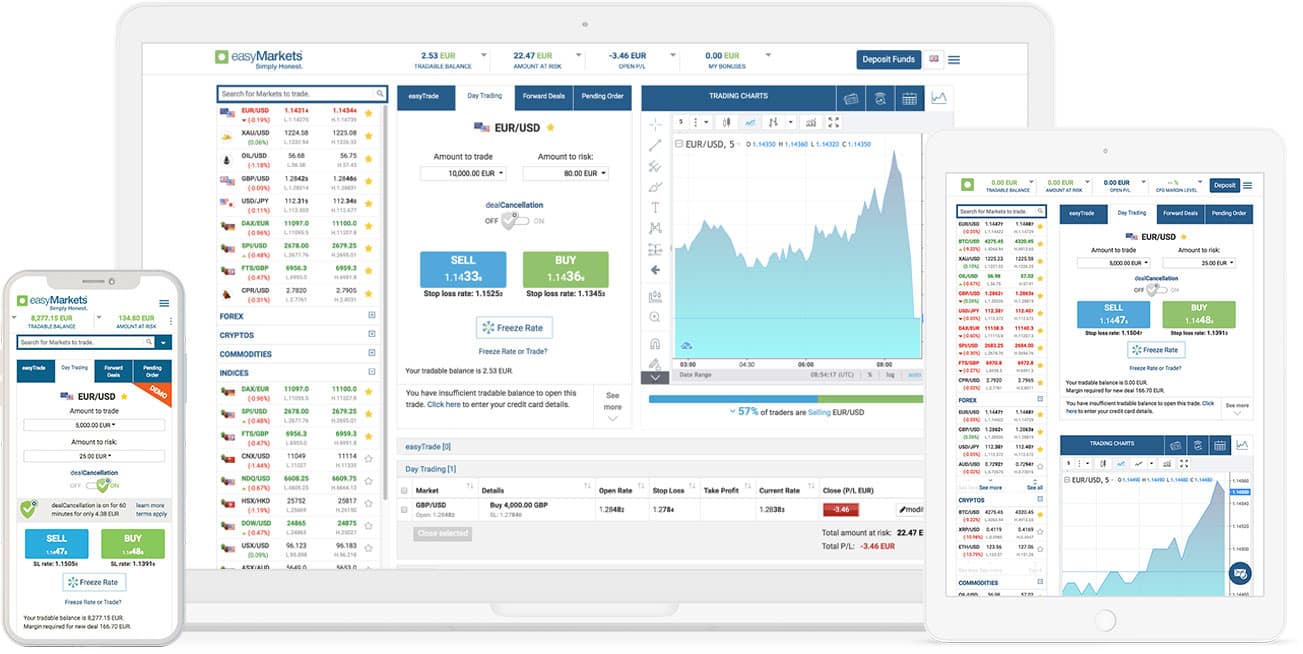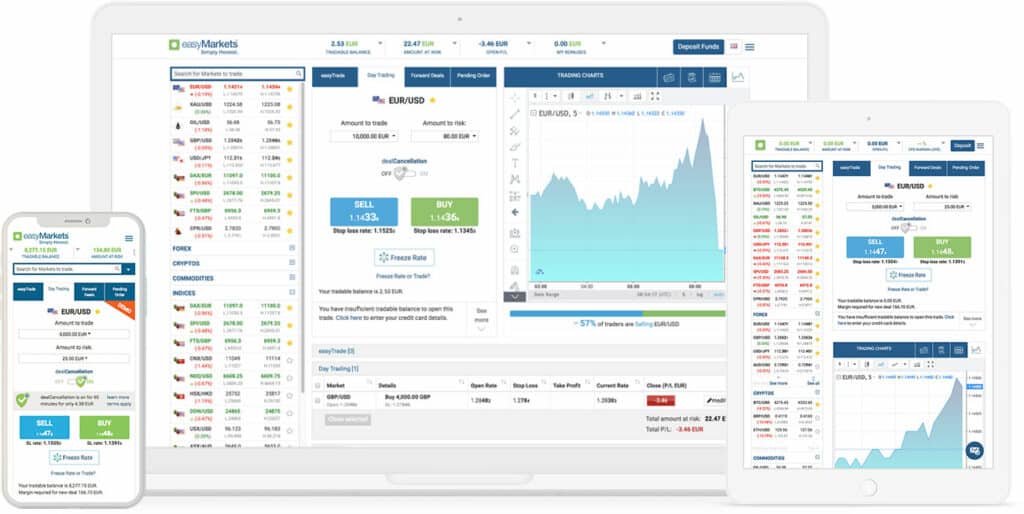 EasyMarkets offers a web based trading platform that allows traders to execute deals from just about any online computer in the world with a browser. In addition, the company offers an MT4 trading platform that has its usual extensive support for technical traders.
This platform gives traders access to quote for more than 200+ instruments, including forex, commodities, metals and indexes, all with online access 24/7 and without the need to download and install any software. One click trading is available from the platform's Market Explorer, which includes advance charting options, news, technical analysis and market sentiment, all on one screen.
The screenshot below illustrates easyMarket's trading platform that allows traders to execute deals in forex pairs, vanilla currency options, CFDs, commodities, precious metals and indices, as well as perform technical and fundamental analysis functions.
EasyMarkets' trading platform runs on Internet Explorer's Version 10 and above, FireFox, version 31 and above, Google Chrome version 31 and higher, Opera version 24 and above, Android version 4.1 and above, Google Chrome for Android version 37, and Safari version 7 and above. Non-supported browsers remain fully functional despite displaying some stylistic elements differently.
EasyMarkets users can unlock a third trading platform: easyTrade. easyTrade can be accessed from the EasyMarkets platform. In the top right corner, there is a Menu button. Hit that and a number of options will roll out, with easyTrade being at the bottom.
In addition to dealCancellation, the broker also offers a unique trading tool called Freeze Rate. This feature lets traders freeze the price they see, thus gaining a few seconds to place their trade. To those skilled enough, such a feature offers a great advantage.
---
3. OctaFX Trading Platform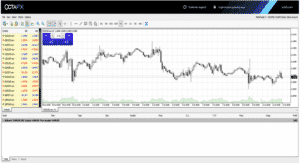 OctaFX will greatly please many forex traders since it offers support for the very popular MetaTrader 4 and MetaTrader 5 online trading platforms and their mobile apps. In addition to trade execution and order placement, these platforms offer extensive charting, technical analysis and portfolio management features. They also allow you as a trader to write your own Expert Adviser that can automate dealing activities.
The screenshot shown above illustrates the basic functions of the OctaFX installation of MetaTrader 4, which includes market monitoring, charts and technical analysis, on-screen trade execution, trade history and account management features.
OctaFX also supports the increasingly popular series of desktop and mobile app trading platforms offered by cTrader, which offers interesting features for you that MetaTrader does not offer.
---
4. Tickmill Trading Platform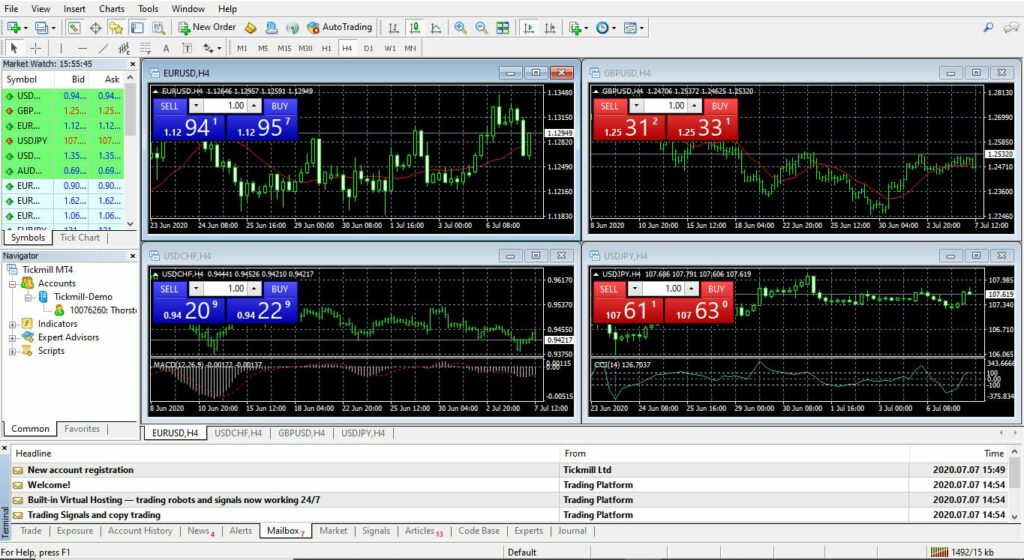 Some reviewers have derided Tickmill for featuring a single trading platform: MT4.
MT4 is, however, the best and most complete trading platform in existence. It covers all possible needs, and in Tickmill's case, it offers superb EA support.
The broker has made the platform available in two versions.
A web-based, no-download version.
The full, downloadable version.
Both platforms require the same username/password combination for access. The main advantage of the WebTrader is that it offers quick access, and it is not device-dependent.
Although simpler and more streamlined than the full version, the WebTrader supports the same charting capabilities. It is MT4 through-and-through.
The full MT4 platform features superb compatibility as well. In addition to Windows platforms, it also works well on macOS, Android, and iOS-powered devices. This is the same version you get when you grab Tickmill's mobile trading app.
MT4 offers a fully customizable trading environment. It supports MQL, the programming language you can use to code your own EAs and technical indicators. You do not have to be an expert to use a wide range of such trading tools. You can also pick them up from third parties and install them on your MT4.
The broker has synchronized the two platforms both ways. What this means is that if you launch a trade on one, you will see it reflected on the other. This synchronization is instantaneous.
The mentioned synchronization also translates to your trading history. You can now visualize all of your past trades through both platform versions.
The WebTrader supports real-time quotes through Market Watch.
The price charts it features are fully customizable.
The WebTrader supports a total of nine time frames.
In regards to technical analysis, the capabilities of the browser-based platform are impressive. It features more than 30 technical indicators.
The compatibility of the WebTrader platform is superb. It works with all modern browsers.
The platform securely encrypts all data transmission to and from the server.
Be default, the Tickmill MT4 platform offers more than 50 technical indicators.
MT4 offers CFDs on a wide range of tradable assets, such as FX pairs, indices, bonds, commodities, and stocks.
Tickmill's liquidity pool is outstanding. Thus, you can execute your orders without any partial fills.
EA support would not be complete without a VPS setup to match it.
Through MT4's advanced notification system, Tickmill delivers actionable trading signals.
In addition to what the two trading platform versions jointly deliver, Tickmill also offers its traders an impressive selection of trading tools.
Preinstalled with the MT4 terminal, Tickmill offers a one-click trading EA. With the help of this expert advisor, you can perform intricate trading maneuvers, with the click of a mouse. Such operations include the placing of Stop Losses and Take Profits, closing positions, and creating new ones.
AutoChartist is an advanced technical analysis tool, creating trader alerts, and working perfectly with MT4.
The broker also offers a handful of Forex calculators, such as a currency converter, a margin calculator, and a pip calculator.
The economic calendar is live on the official Tickmill website. It offers traders the opportunity to perform fundamental analysis and to trade the news.
Tickmill's VPS service offers low latencies, uptime guarantee, and quick setup.
---
5. Forex.com Trading Platform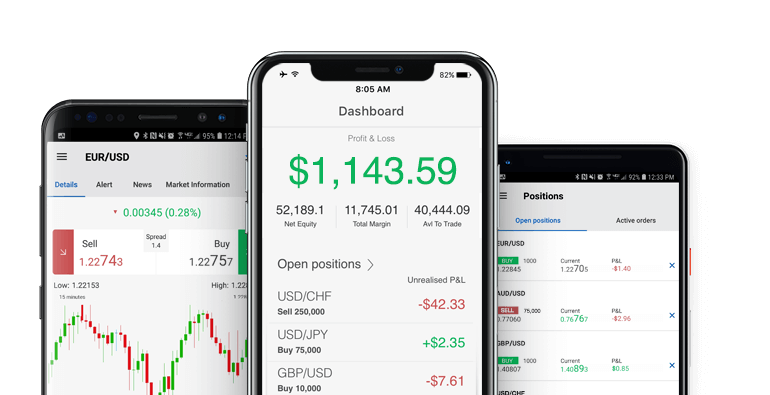 Forex.com features a decent selection of trading platforms: an Advanced Platform, a Web Trader and a couple of mobile trading apps for Android and iOS.
The Advanced platform (MT4) is a very fine trading environment indeed. It is aimed at serious traders, but beginners/recreational traders can use it as well. It offers more than 80 built-in technical indicators, as well as fully customizable dashboards, not to mention trading preferences.
The platform also comes equipped with hundreds of templates one can use to create trading strategies.
The Web Trader is almost as advanced as the above described Advanced platform. It features more than 70 technical indicators and some 50 drawing tools traders can use to make heads and tails of various chart/candlestick patterns. Market analysis is also part of the this package, as is a selection of integrated trading tools.
The mobile trading apps may not be visually as appealing as the above discussed two desktop platforms, but they are powerful in their own right too. They support multiple order types and access to the full range of tradable assets allowed by one's account type.
Market news are delivered in real time through these platforms too and real time alerts are provided as well.
In addition to the platforms, the broker covers a range of trading tools, of which a series of market research tools are the most prominent. In this regard, the Latest Research feature and the Economic Calendar would normally stand out. In this instance however, they have their thunder stolen by the Live Trading Sessions and the Global Research Team.
Live Trading Sessions can only be accessed based on previous registration. The exact dates of the sessions are made public at the official site of the broker. Traders can select up to three such sessions.
The Pivot Points feature lets traders set support and resistance levels on a daily, weekly and monthly basis, with the use of pivot points. The tool determines these levels for various assets which the trader can select. It even offers a brief explanation concerning pivot points.
Happy trading!
Please share all the comments you might have on these online trading platforms in the comment field below. Which is the best trading platform in Canada according to you? And would you say that the same platform is also best for beginners?
Please comment below